eyerim is delighted to announce that we have raised €1.7M which marks the 4th fundraising round since its inception. The round was led by Eterus Capital, Slovak private equity fund, with 3TS Capital Partners contributing.
"We are very happy to welcome Eterus Capital as a new investor in eyerim and are looking forward to them joining the great journey ahead of us. The eyerim team has been working hard on delivering the milestones and proving that the eyewear vertical in Eastern Europe is ripe for disruption," added Piotr Śliwa, Investment Manager at 3TS.
The new round brings eyerim's total funds raised to €5.7M. While in the past the proceeds flowed towards aggressive geographical expansion and bold marketing strategy aimed at establishing eyerim as the first mover & the market leader in all key markets, this time the company plans to build on top of these stable foundations. The management plans to continue building a top-of-mind brand & pushing the eyewear industry further into the 21st century by adopting new best-of-breed technologies early on and adding new revenue streams and building value added services - prime example being eyerim's D2C brand of prescription frame, its own private label product lin as well as Magic Mirror virtual fitting tool which eyerim introduced as the first player in these markets & provides fun & immersive AR experience for customers who can try thousands of models from their devices.
"Since its founding, eyerim has been focusing on its expansion in Central and Eastern European market, where it already commands a dominating position. The transaction was conducted as an increase in the company's equity capital, which is aimed at acceleration of eyerim's growth and expansion of its private label product line – eyerim collection," Boris Kostík, Director at WOOD & Company.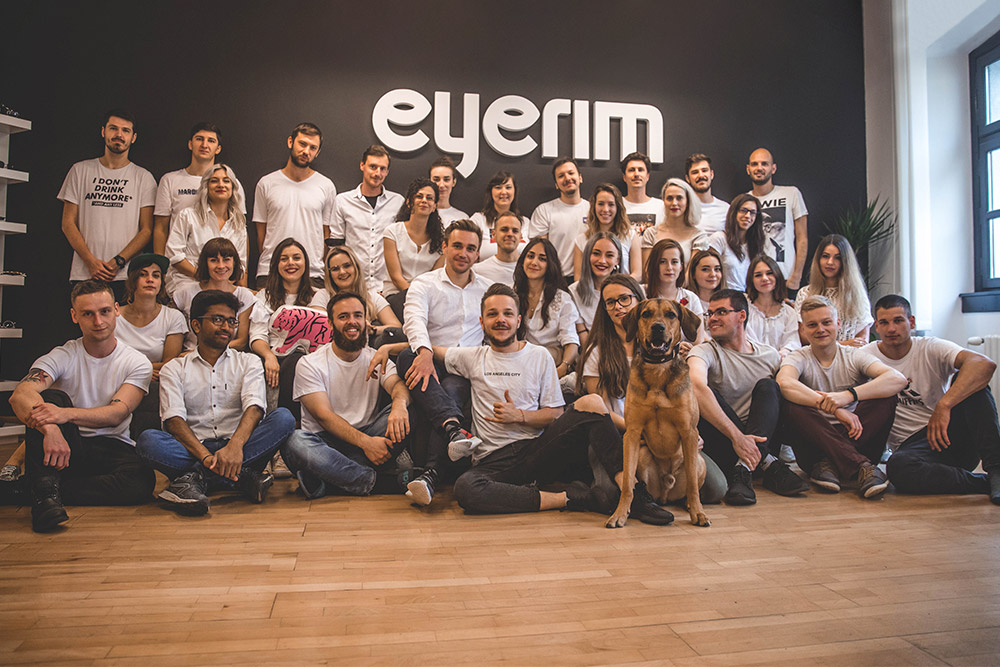 "The company is aiming to focus on pleasing the customers rather than sticking to a single way of selling glasses," added Yassaman Omidbakhsh, eyerim's co-founder and managing partner. "It has been a tough time for so many businesses and it is sad to see the devastating effect the crisis is having. I am enormously proud of the eyerim team who have come together during this time to deliver a very successful Series A jointly with Eterus and 3TS Capital partners. We are extremely excited for the road ahead."
Martin Zahuranec, co-founder and CEO of eyerim commented: "Eyewear is perhaps the last multi-billion industry which has not yet been digitized, with Europe's peripheral markets characterized by a booming middle class being still at the very beginning of the brick-and-mortar to ecommerce transformation. Concluding the round at the peak of uncertainty reflects our unshakeable trust in the bright future of ecommerce. Furthermore, we believe unexpected once-in-a-lifetime events create paradigm shifts which accelerate already emerging consumer shopping patterns. That is why we feel tremendous responsibility to create even more meaningful disruption & push even more value, transparency & freedom towards the customers".
He also added, "We signed just a day after the 5th anniversary of launching our first website - designed while the four of us, eyerim's founders, lived crammed in a tiny one bedroom apartment, storing Ray-Bans in our closets."
About eyerim
eyerim is the online optician of Central & Southwest Europe, balancing its well-established e-retailer & high-growth D2C business models in mutually reinforcing symbiosis. The company revolutionizes the way 160 million inhabitants of the region purchase eyewear by empowering shoppers through state-of-the art technologies and providing radical transparency since the first click. eyerim builds a top-of-mind brand encompassing everything eyewear - from sunglasses to tailor-made prescription glasses, from exquisite designer pieces to cutting-edge performance wear to mainstream classics & its independent private label collection.
Learn more at: www.eyerim.com
About Eterus Capital
Eterus Capital is a Slovak private equity fund focused on investments in growth-phase small and medium-sized companies, which has been operating on the market since 2008. The fund is managed by WOOD & Company, a leading investment group with a strong position in the Central European market, focused on providing transaction advisory, securities trading and asset management.
Learn more at: https://eterus.sk/en/
About 3TS Capital Partners
3TS Capital Partners is one of the leading European technology focused private equity and venture capital firms. 3TS provides expansion capital for small and medium-sized businesses in growth sectors including Technology & Internet, Media & Communications and Technology-Enabled Services. Investors in the current and past 3TS funds totaling over €300 million include EIF, EBRD, Cisco, OTP, Sitra, 3i and KfW among others.

Learn more at: www.3tscapital.com